I am E V John. I am 64 years. I am a parishioner of Ss Joseph & Caret Church, T. Dasarahalli. I reside at 1271, Coconut Garden, T. Dasarahalli, Bangalore 560057. My family consists of my wife and a son who is married, his wife and they have a ten month old son. I also have a daughter who got recently married with the intercession of our patron saints Joseph & Claret. I am briefly narrating my testimony hereunder with regard to her marriage.
From childhood onwards I had never felt that I should accumulate wealth and become rich. I had always felt and prayed that I should have a simple but comfortable life. God has been generous to grant me this request all through my life by incessant prayers. I was quite contented and happy with this kind of life style and thanked God for his benevolence at all times.
Somewhere in April 2014, I got my daughter registered in Chavara Matrimony for a possible alliance. A number of enquiries were coming up. Only then did i realize that I have not saved enough money to get her married off. I was a little bit disturbed on this thought. In the month of may 2014 on a Tuesday, I had a telephonic talk with my son and daughter -in-law who were in UK and asked them, if there was any possibility of arranging some funds for the marriage to be conducted, if finalized, as negotiation were going on. They told me that a loan from my daughter-in-law's hospital where she worked was not possible as she had only 18 months of service to be completed to end her contract with the Hospital. Neither, did they have any savings. Further my son also did not have any job at that time. Hence, all doors were closed. This made me very sad and entrusted the whole thing to my Lord Jesus through the intercession of St. Joseph, Our patron Saint.
The next day was a Wednesday and I attended the mass in Ss. Joseph and Claret Church with a heavy heart after which I participated in the adoration and St. Joseph Novena with tears in my eyes asking the intercession of Ss. Joseph and Claret our patron saints to help me in this desperate situation. After the adoration and novena, I came out of the church pinning all my hopes on the saints for their intercession and was confident that God will not let me down as has been the case every time I prayed to Him.
I went back to home around 8 p.m. after the church proceeding on this Wednesday. After reaching home, I took the Mobile phone which was in the dickey of my scooter. I usually do not keep the Mobile Phone with me while I am inside the Church. I keep it in the scooter dickey. Casually I was flipping through the missed calls in the mobile and I noticed 3 missed calls from my son while I was in the Church. Just then, my Son called me again and told me that both he and his wife along with the baby went to the hospital to check whether there was any possibility of applying for a loan. During those days she was on maternity leave. He further told me that, not only did they sanction the loan with in half hour, but also issued the cheque for Rs. 7.00 lakhs on the spot and the cheque was in his hand while he called me to inform this good news. That was the time when I could not take the calls as I was in the Church when I was busy praying with tears in my eyes during the Adoration and Novena to St. Joseph.
How wonderful and strange are the ways God accomplishes his miracles through faith. To top it all, within another 15 days the marriage was also finalized for my daughter through Chavara Matrimony. I had then vowed that I would give this testimony in St. Joseph & Claret Church after the marriage is successfully completed on 26th Jan. 2015 after eight months as pre-scheduled. Eight months later, the marriage had taken place to the same boy with whom we had finalized earlier. Thanks to St. Joseph, for his intervention in the matter and miraculously made all these possible.
I only want to say to my dear friends and devotees of Ss. Joseph & Claret that if you have the faith, the impossible can become possible. We should pray to the Saints to intercede for our needs, then, we will definitely get what we actually need. God's love is true and infinite to the needy and humble. Ask, you will get it, seek you will find it and knock and it will be opened to you!
With Prayerful wishes to each one of you! GOD BLESS EVERYONE!
Praise the Lord
I am Mrs. Violet Buthello as I was detected with breast Cancer. I consulted many doctors; they mentioned that surgery is impossible as the cancer was spread. Then my friends suggested me to go to Ss. Joseph and Claret Church and tell the Parish Priest to pray. I also came and prayed, my friends also told Rev. Father to pray for me and Father was praying for me every Sunday. St. Joseph and St. Claret heard Rev. Father's and all the people's prayer. All the treatment went on well now I am keeping fine. Thanks for all the Prayers. And once in 3 months I need to go for a Checkup. Thanks and Praise to St. Joseph and St. Claret, Praise to the Lord Jesus. Please do keep praying for me I thank the parish Priest and all the people who have prayed for me. Please continue to pray for me.
Praise the Lord and Thank you Jesus. Thank you.
Praise the Lord
My name is Raphel. I Thank God for the healing he gave me. I was suffering due to Piles for the past 20 years.
While Gospel message was being delivered during a ward prayer at our home by our Rev Fr Vicar in November 2014, I experienced shivering of my body, and thereafter felt that something like a fireball come down from my head.
With that I realized that the difficulties of Piles have gone away from me. Even when I ate food which was not suited for Piles, I have not experienced any difficulty.
Thank you Jesus
Praise you Jesus.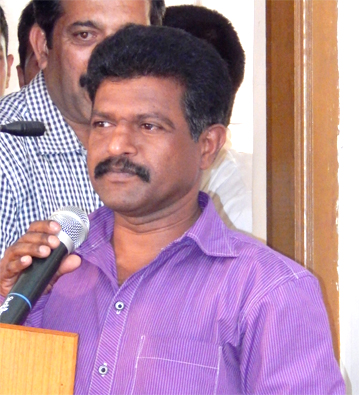 Dear Brothers & Sisters,
My name is Thankachan. Iam standing here to bear testimony to the blessing received from God. I have been working at a job work centre of Paragon for 3 years. I was rendered jobless as the job work centre was closed on 15th March 2014. Meanwhile, the owner of -----------------------Trading Company, which is situated near TVS cross called me to know whether iam interested to go to Dubai. When I informed him about my willingness to go to Dubai, I was asked submit the copy of the passport after obtaining the same at the earliest. Accordingly, I applied for a passport and a copy of the same was submitted on receipt after 3 months. When I asked about the expenditure involved in obtaining VISA, I was told that all expenditures towards VISA, Medical Examination, Airfare, and Accommodation (at Dubai) shall be met by the company. So, I was appointed as a Mechanic at their shop at Dubai and was given VISA and the flight ticket for my travel to Dubai by the morning flight on 11th October.

I thank God for having bestowed with such a blessing on me. I also thank the parish priest for allowing my testimony here. I shall contribute half of my first-month salary as donation to this church.

Thank you.

Mrs. Philomena Joseph one of the Family member of our Parish, witnessing that she was suffering from Cancer from past 2 & 1/2 years. When she & her family came to know that she is suffering form Cancer it was 2nd Stage and by the time Treatments had started the sickness had developed to 3rd Stage. Doctors had confirmed that Operation chance's are very less it may spread, so will have to undergo 5 chemotherapy and 45 Radiation's daily and at the last 5 Radiations for 12hrs. Later they asked prayer request at our Parish. The Parish Priest & the Parish members/family's all prayed to God through Saint Anthony Mary Claret the helper of those who are suffering from cancer. It was told that after starting the treatment Doctors confirmed that she is recovering very fast and will not have to under go the full Treatment, she will need only 5 Chemo, 25 radiation and 3 of 12hrs radiation. After completing the treatement course Doctor's have confirmed that she is fully cured and out of Sickness. Praise the Lord & Thank Jesus for his mercy. Thank you St. Anthony Mary Claret for praying to the Lord and curing all the Cancer Patients. Special thanks to Our Parish Priest Fr. Thomas Thanniyanickal and all the families and members those who pray for the people suffering from Cancer.

Dear Friends in Jesus Christ,
I am LONAPPAN V. V aged 70 residence at R T Nagar and parishioner of St. Alphonsa Church, Sultanpalya, I am witnessing the Blessing's received in my life from JESUS CHRIST through St. Anthony Mary Claret.
During early 2012, I used to often experience severe lower back pain. I consulted my family physician on such occasions and he used to give me certain medicine and the pain used to subside. One particular day, the pain aggravated heavily and I was taken to the emergency cell of Baptist Hospital. They examined me and said it could be due to Spontalities and gave me certain medicine. Although the pain subsided, after few days again it repeated.
The situation got worsened on an another day where my family physician suspected some big issue and suggested to take a MRI of Back bone. This X-Ray gave some negative results and was referred to take a opinion from an oncology doctor.
We went to St John's during September 2012 and showed all the X-ray reports to an Oncology Doctor there. After three days of examination, they declared that the pain was due to Prostate Cancer that slowly spread on to the bones. Medically they called it as Carcinoma Prostatic with Bone Matastasis.
The doctors suggested either an immediate surgery called Bilateral Orchidectomy or an powerful medicine. We opted for the surgery and it was completed on 29.9.2012. Thereafter, doctors suggested to take a medicine called BI-Calutamide regularly for atleast 2 to three years so that it helps the growth of cells.

While all these incidents happened, at the other side my daughter who is a parishioner at St Joseph & Claret church, prayed for me and also advised to pray to St Claret who is the intercedes to our Lord especially for people suffering with such disease.

Although I was 70 year old, I experienced a smooth surgery and thereafter the pain totally vanished. I was not subjected to any other procedures thereafter. I am keeping good health as of today.

Thanks to the St Claret, our lord Jesus Christ and mother Mary for curing me and keeping me in good health.
Write to us your Testimonials