Altar Boys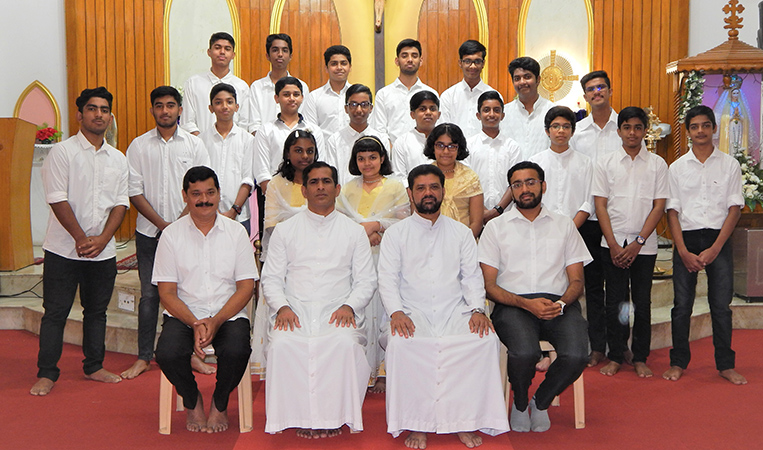 The history of Acolytes (Altar boys) goes back to the earliest days of the Church. St. Tarciscius was a 13 year old boy and acolyte in the 3rd or 4th century. Because there were no deacons present at a morning Mass, he was chosen to take the communion bread to prisoners awaiting execution. Along the way he was attacked by a group of similar aged boys and killed. He is a Patron Saint of Altar Servers.
In our church also we have a dedicated group of altar boys who take care of church and all the services. Even though we don't have a sacristan, all our programme and services are arranged by the altar boys. We thank and appreciate them and their parents for their availability and their dedicated services.
They have group meetings and evaluations during every month and a yearly picnic is arranged for entertainment and group. We hope and pray that some of them become priests in the days to come. We request everyone's prayers for the same.
The names of our altar boys for the year 2021-2022 are given below.
| | |
| --- | --- |
| | ALTAR SERVERS CORE COUNCIL |
| Parish Priest | Fr. Joseph Madavath, CMF |
| Asst.Parish Priest | Fr. George Mattathil, CMF |
| Sacristan | Mr. Johny V P |
| Head | Mr. Albin Shaji |
| Asst. Head/Choir | Mr. John.M.George |
| Asst. Head/Secretary | Mr. Sanjay. S. Binu |
| Leader | Mr. Joel Joseph |
| Vice Leader | Mr. Saviyo P shinu |
| Treasurer/Organiser | Mr. Athul Shabu |
| | |
| --- | --- |
| No. | Name |
| 1 | Abel Mathew |
| 2 | Abhinav Ross Mathew |
| 3 | Abin Vijay |
| 4 | Albin Shaji |
| 5 | Alen Paul |
| 6 | Alex Tom |
| 7 | Alfin Joseph |
| 8 | Allan Johnson |
| 9 | Allen Peter |
| 10 | Allen Tom |
| 11 | Athul Shabu |
| 12 | Benjit Jomon |
| 13 | Christy.K.Manoj |
| 14 | Edison Thomas |
| 15 | Jissmon Jolly |
| 16 | Joel Joseph |
| 17 | John.M.George |
| 18 | Noyal Abraham |
| 19 | Roshan Reji |
| 20 | Sanjay.S.Binu |
| 21 | Saviyo.P.Shinu |
| 22 | Stanly.P.S |
| | |
| --- | --- |
| No. | Name |
| 1 | Alona Sebastian |
| 2 | Ann Maria Joshy |
| 3 | Emil Mathew |