Parish Priest Message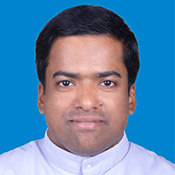 Dear Brothers and Sisters,
A very warm welcome to SS. Joseph and Claret Parish Website. The online face of our Parish information is helpful in our journey of faith. The mission of the Parish is rooted in the Mission of our Lord Jesus Christ in the style of two saints namely Saint Joseph and Saint Antony Mary Claret. We are part of the Eparchy of Mandya diocese of Syro-Malabar which follow the Liturgical celebration of the Syro Malabar Rite. We have a vibrant, active participatory Church.
I am happy to be connected to each and every one of you through this digital forum. Thisenables us to know and to participate meaningfully in the life and mission of the parish.
Presently we have more than 360 registered families in the parish and parishioners of 1400. All the more, a vast number of employed floating youth and students are the beneficiaries of the services in our Parish. We have got various pious charitable associations, organised and facilitated by the able guidance of the Parish administration. We have Lay Claretian Movement, Family Apostalate, Medical Fraternity, Pithruvedhi, Mathruvedhi, Youth Association (JACYA), Cherupushpa Mission League Association of Catechism teachers, Parents Teacher's Association PTA, Association of Altar boys and Girls render commendable services in their own respective fields. During one and half decades of the history of Ss. Joseph and Claret Church, it has achieved a remarkable progress beyond our expectations. Kindly explore and know. We thank the generosity of the parishioners, well-wishers and benefactors.
Together with our Parish Team, I wish each and every one of your blessings from our Heavenly patron Saint Joseph and Saint Antony Mary Claret. May they continue to guide us and bring us closer to our Lord Jesus Christ.
Fr. Justin Kuzhivelil
Parish Priest